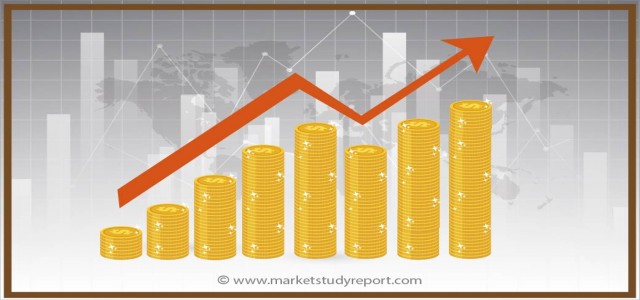 MarketStudyReport.com offers 2018 report on global Vascular Graft market that evaluates industry growth trends through historical data and estimates future prospects based on comprehensive research. The report extensively provides the market share, growth, trends and forecasts for the period 2018-2024.
Players operating in the global Vascular Graft market include Becton Dickinson (C.R. Bard), B. Braun, Cryolife (Jotec), Cook Medical, Endologix, Getinge AB, LeMaitre Vascular, Medtronic PLC, Terumo GmbH, W.L. Gore and Associates, Inc.
Request a sample of this premium report at: https://www.marketstudyreport.com/request-a-sample/1251685/
Hospital segment accounted for largest revenue of USD 1,535.7 million in 2017. Growth is credited to higher number of individuals seeking cardiovascular surgeries and hemodialysis procedures in hospitals. Growing patient pool coupled with introduction of innovative surgical procedures will render positive impact on business growth during the forecast timeframe.
U.S. demographics suggest that about 32% of the U.S. population is aged 50 years and above. Rising number of elder people will lead to increasing burden of cardiovascular diseases. Growing burden of cardiovascular diseases will favor market growth. Favorable healthcare and reimbursement policies coupled with technological advancements will promote market growth in the future.
Increasing technological advancements for development of innovative vascular grafts will favor market growth. For instance, Terumo recently launched RelayPro Thoracic Stent Graft System. Its innovative design and dual sheath technology meet specific anatomical needs of patients.
Polyester graft segment accounted for largest revenue of USD 1,457.3 million in 2017. Easy availability and wide array of applications are major factors for its growth. High material compatibility and technological advancements for optimizing polyester vascular grafts will further aid segmental growth in the future.
Request a discount on standard prices of this premium report at: https://www.marketstudyreport.com/check-for-discount/1251685/
China dominated Asia Pacific region with market share of 48.1% in 2017, owing to increasing incidence of end-stage renal disease. Increasing prevalence of end-stage renal disease is attributable to unhealthy diet and lifestyle associated chronic diseases such as obesity and hypertension. High pervasiveness of end-stage renal disease will lead to increased demand for hemodialysis, favoring regional growth in the forecast timeline.
Table of Content:
Chapter 1. Methodology and Scope
Chapter 2. Executive Summary
Chapter 3. Vascular Graft Industry Insights
Chapter 4. Vascular Graft Market, By Raw Material
Chapter 5. Vascular Graft Market, By Application
Chapter 6 Vascular Graft Market, By End-use
Chapter 7. Vascular Graft market, By Region
Chapter 8. Company Profiles
For More Details on this Report At: https://www.marketstudyreport.com/reports/vascular-graft-market
Related Report:
Global Cellular Allografts Market 2018 by Manufacturers, Regions, Type and Application, Forecast to 2023
This report focuses on the Cellular Allografts in global market, especially in North America, Europe and Asia-Pacific, South America, Middle East and Africa. This report categorizes the market based on manufacturers, regions, type and application. Cellular allografts consist of allograft bone combined with adipose derived mesenchymal stem cells; or may refer to HCT/P (Human Cells, Tissues, and Cellular and Tissue-based Product) comprised of viable cells within a cortical cancellous bone matrix.
https://www.marketstudyreport.com/reports/global-cellular-allografts-market-2018-by-manufacturers-regions-type-and-application-forecast-to-2023/?utm_source=OPR-PSR
About Us:
Marketstudyreport.com allows you to manage and control all corporate research purchases to consolidate billing and vendor management. You can eliminate duplicate purchases and customize your content and license management.
Contact Us:
Market Study Report LLC
4 North Main Street,
Selbyville, Delaware 19975
USA
Phone: 1-302-273-0910
US Toll Free: 1-866-764-2150
Email: [email protected]
Website: https://www.marketstudyreport.com
Blog: https://www.marketstudyreport.com/blog