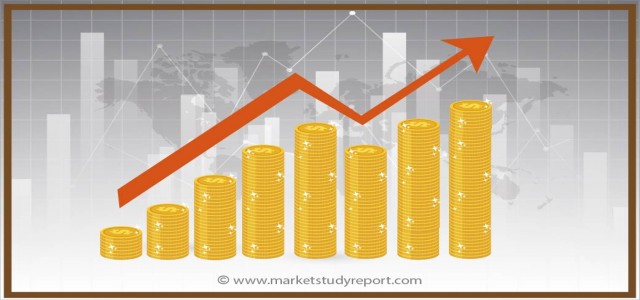 The Unified Communications & Collaboration Market report add detailed competitive landscape of the global market. It includes company market share analysis, product portfolio of the major industry participants. The report provides detailed segmentation of the Global Unified Communications & Collaboration market based on product segment, technology, end user segment and region.

Unified Communications & Collaboration (UCC) market is projected to surpass USD 60 billion by 2025. The market growth is attributed to factors such as penetration of smartphones and the growing need among organizations to streamline their business communication process flows. The rising usage of smartphones globally has compelled the UCC vendors to create mobile unified communications that will enable enterprises to access UC applications through a single interface. Moreover, the growing investments in 5G networks will also support the adoption of modern enterprise communication solutions.

Request a sample of this premium report at: https://www.marketstudyreport.com/request-a-sample/467684

With the increase in digitization, organizations are now focusing on geographic expansion due to which managing business communication processes has become a difficult task. The need for the UCC system is to consolidate communication processes under a unified framework that can be managed easily. This reduces operational cost for organizations and their expansion globally. With the rapid adoption of cloud computing, they are constantly involved in modernizing their communication infrastructure to enable business communication across diverse geographical business units.

The BFSI market is expected to register the fastest growth rate from 2019 to 2025 with a CAGR of over 11% due to the rapid adoption of UCC solutions to improve their profitability and way of conducting business. The financial institutions are using tools, such as mobile messaging and video conferencing, to personalize their relationships with customers to improve customer satisfaction. The growing use of such tools to facilitate seamless communication process and benefit from multichannel communications internally & externally will foster the UCC market growth in the BFSI sector.

The on-premise deployment model held a dominant UCC market share of over 55% in 2018 and is expected to maintain its dominant share by 2025. As the on-premise model offers enterprises with the complete software and hardware service control, enterprises are widely using this model to have accessibility to equipment anytime for troubleshooting while managing disaster recovery.

The Asia Pacific UCC market is expected to grow at a CAGR of over 12% during the forecast timeline. The market growth is driven by the adoption of cloud-based UCC solutions and various government initiatives for modernizing ICT infrastructure. For instance, the South Korea Ministry of Science and ICT along with the major carriers in the country have drafted a plan to set up a nation-wide infrastructure by 2020. The huge penetration of low-cost smartphones in countries including China and Japan will also contribute toward market growth.

Another factor driving the UCC market growth is the rising trend of Bring Your Own Device (BYOD). The trend has added to the complexity of handling different communication channels in enterprises. To address this challenge, UCC solutions are widely being deployed by organizations to streamline communication functions easily.

Conferencing platforms are expected to witness the highest growth of over 12% during the forecast period. The platforms, such as audio and video conferencing, ease communication process among businesses and provide various benefits such as improved competitive advantage, improved productivity & employee satisfaction, and improving the demand for these platforms over the forecast period.

In the telephony market, the IP PBX market is projected to witness the fastest growth rate with a CAGR of over 8% from 2019 to 2025. The major factor driving the market is its easy support and reduced network latency. The majority of the hosted IP PBX providers have already started offering customized services, allowing users to connect to other servers without getting disconnected.

Request a discount on standard prices of this premium report at: https://www.marketstudyreport.com/check-for-discount/467684/

Furthermore, in November 2017, Beijing 263 Enterprise Communications Co., Ltd., one of the leading providers of enterprise SaaS services in China, and Arkadin, a provider of cloud communications (including UCC solutions), entered into a partnership to provide improved cloud communication solutions in the Chinese market. By joining forces to combine their respective expertise, the companies offer high-quality services including video/audio/web conferencing, unified communications, and web events. In October 2017, Ricoh, a global unified communications provider, partnered with Videxio, a provider of cloud-based video conferencing solutions, to extend its ?Ricoh Unified Communication System (Ricoh UCS) Advanced? to the Japanese market.

Table of content:
Chapter 1. Methodology & Scope
Chapter 2. Executive Summary
Chapter 3. UCC Industry Insights
Chapter 4. Competitive Landscape, 2018
Chapter 5. UCC Market, By Platform
Chapter 6. UCC Market, By Deployment Model
Chapter 7. UCC Market, By Application
Chapter 8. UCC Market, By Region
Chapter 9. Company Profiles
More Details on this Report At: https://www.marketstudyreport.com/reports/unified-communications-uc-market
Related Report:
Unified Communications Market [By Platform (Telephony, Unified Messaging, Conferencing, Others); By Deployment Model (On-Premise, Cloud-Based); By End-User (BFSI, IT & Telecom, Healthcare, Retail, Education, Travel and Hospitality, Others); By Region]: Market Size & Forecast, 2017 ? 2026
North America generated the highest revenue in the market in 2017, and is expected to lead the global market throughout the forecast period. The presence of established telecom and cloud infrastructure in this region, and growing trend of BYOD drive the market growth in the region. The growing demand of mobile devices, and technological advancements further support market growth in the region. Asia-Pacific is expected to grow at the highest CAGR during the forecast period owing to growing demand of effective enterprise communication technologies in the developing countries of the region.
https://www.marketstudyreport.com/reports/unified-communications-market-by-platform-telephony-unified-messaging-conferencing-others-by-deployment-model-on-premise-cloud-based-by-end-user-bfsi-it-telecom-healthcare-retail-education-travel-and-hospitality-others-by-region-market-size-forecast-2017-2026
About Us:
Marketstudyreport.com allows you to manage and control all corporate research purchases to consolidate billing and vendor management. You can eliminate duplicate purchases and customize your content and license management.
Contact Us:
Market Study Report LLC
4 North Main Street,
Selbyville, Delaware 19975
USA
Phone: 1-302-273-0910
US Toll Free: 1-866-764-2150
Email: [email protected]
Website: https://www.marketstudyreport.com
Blog: https://www.marketstudyreport.com/blog