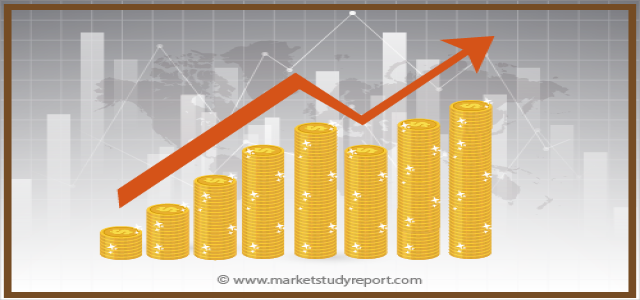 MarketStudyReport.com Adds New Tool Steel Market 2018 – 2024 research report providing information and data By Material, By Product, By Application, By End-Use, Industry Analysis, Regional Outlook, Application Potential, Trends, Competitive Market Share & Forecast spreading across 190 Pages with table and figures in it.
Asia Pacific tool steel market from injection molding applications should surpass USD 990 million by 2024. The region is witnessing increased demand for molded plastic products from the packaging, construction and transportation industry owing to their light weight, toughness, heat and chemical resistance. Tool steel possesses good machinability, excellent polishability, weldability and photo-etching features owing to its low sulfur content, which makes it suitable for manufacturing injection molds and should stimulate market growth.
Request a sample of this report at: https://www.marketstudyreport.com/request-a-sample/1369346/?utm_source=Reportsgo-AN
Cold-work tool steel market should register gains of over 4% by 2024. These products are routinely used in manufacturing various products such as forming & blanking dies, collets and gauges, threading dies, and piercing punch. The desirable features of these products such as improved hardenability, low cost, reduced distortion and high wear resistance pertaining to their high carbon content should stimulate product demand.
Tool Steel Market may exceed USD 6.5 billion by 2024; according to a new research report. Tungsten tool steel market was valued at over USD 465 million in 2017. Tungsten is added to the product and imparts various benefits such as red hardness, wear resistance, tensile strength, corrosion resistance and reduce expansion. Increasing product demand for open die forging and long product manufacture should further boost tungsten tool steel market growth. These products are routinely used for hot & cold working and cutting of various materials such as polymers, wood and metals owing to their superior strength & hardness which should stimulate product demand.
Growing product demand for manufacturing cutting tools such as drills, gear cutters, taps, planers, saw blades, and router bits should accelerate tool steel market growth. This product exhibits several features such as high thermal conductivity, hardness, wear resistance, economic machinability and high tolerance to shearing forces which increase its suitability for cutting instrument production. Increasing demand for precision and intricacy in manufacturing, construction and oil & gas industries should stimulate demand for cutting tools further boosting steel market growth.
Request a discount on standard prices of this report at: https://www.marketstudyreport.com/check-for-discount/1369346/?utm_source=Reportsgo-AN
Global tool steel market share is substantially consolidated and includes various participants such as SCHMOLZ + BICKENBACH, Voestalpine, Sandvik, Voestalpine, Nachi-Fujikoshi Corp, Samuel, Son & Co, Eramet SA, Buderus Edelstahl GmbH, BOHLER, Baosteel Group, Dongbei Special Steel Group Co, SeAH Changwon Integrated Special Steel, QiLu Special Steel Co., Pennsylvania Steel Company, Tiangong International Co, Hitachi Metals, Ltd. Major manufacturers focus on launching new products to attract new customers and strategic collaborations for market expansion.
Table of Content:
Chapter 1 Methodology & Scope
Chapter 2 Executive Summary
Chapter 3 Tool Steel Industry Insights
Chapter 4 Tool Steel Market, By Materials
Chapter 5 Tool Steel Market, By Product Class
Chapter 6 Tool Steel Market, By Application
Chapter 7 Tool Steel Market, By End-Use
Chapter 8 Tool Steel Market, By Region
Chapter 9 Company Profiles
For More Details On this Report: https://www.marketstudyreport.com/reports/tool-steel-market
Related Report:
Global Tool Steel Market by Manufacturers, Regions, Type and Application, Forecast to 2023
Tool Steel refers to a variety of carbon and alloy steels that are particularly well-suited to be made into tools. Tool steels are notable for their hardness, resistance to abrasion and deformation. Today, tool steel is widely used in various specific tool applications like dies, cutting, mold-making and hammers (personal or industrial). Tool Steel can retain a cutting edge at very high temperatures which is why they are often used in the shaping of other materials through cutting, pressing, coining or extruding. Their resistance to abrasion lends to their use in the production of injection molds. In the last several years, USA tool steel sales market has enjoyed a growth with average growth rate about 5%. In 2016, the USA tool steel sales market is expected to be nearly 232 K MT, with value of 280 million USD. In 2012 and 2015, USA tool steel sales market has enjoyed a visible growth due to the automotive industry. Automotive industry, the end market more than 40 percent of all domestic tool steel, was the key driver in tool steel?s fast growth. Tool steel is important for automotive industry, machinery industry and shipbuilding industry. It is invisible that there may be substitute materials in the market. In addition, as the fast development of global steel and iron industry, the material of tool steel industry is abundant.
https://www.marketstudyreport.com/reports/global-tool-steel-market-by-manufacturers-regions-type-and-application-forecast-to-2023
About Us:
Marketstudyreport.com allows you to manage and control all corporate research purchases to consolidate billing and vendor management. You can eliminate duplicate purchases and customize your content and license management.
Contact Us:
Market Study Report LLC
4 North Main Street,
Selbyville, Delaware 19975
USA
Phone: 1-302-273-0910
US Toll Free: 1-866-764-2150
Email: [email protected]
Website: https://www.marketstudyreport.com