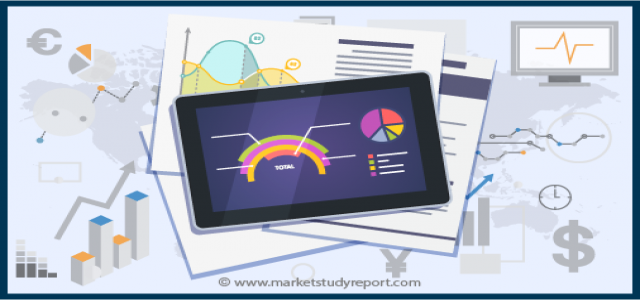 Market Study Report adds global Network Attached Storage market report that gives meticulous investigation of current scenario of the market size, share, demand, growth, trends, companies active in the industry and forecasts for the coming years.

Network Attached Storage (NAS) market is projected to surpass USD 20 billion by 2024. NAS is a dedicated file storage system that operates through a standard Ethernet connection to offer a file-based shared storage to LAN nodes. The device operates as an independent network node on the LAN and has its own unique IP address. A NAS system provides data access to a heterogeneous cluster of clients. Organizations use NAS solutions as a reliable data storage method, which can be easily managed and controlled with their established network systems.
Request a sample of this premium report at: https://www.marketstudyreport.com/request-a-sample/1130969

Europe is projected to remain the second largest market for NAS solutions by 2024. The significant market coverage can be attributed to the widespread adoption of the storage technology by SMEs in the region, consistently expanding the data center infrastructure, and increasing the emphasis by key market players on extending their presence in the European market.

The NAS market is projected to register a lucrative growth with an impressive CAGR of over 20% between 2018 and 2024. This growth is attributed to the growing adoption of cloud-based storage solutions by SMEs, increase in big data analytics & data mining applications, and ease-of-installation & automatic data backup capabilities. Increasing volume of social media content and rapid proliferation of high-speed data transfer technologies are also expected to largely assist the market growth during the forecast timeline.

NAS systems are offered in a diverse set of configurations by the manufacturers wherein they act as a central media hub for a family in consumer applications and can scale up to the largest data centers for enterprise applications. The companies offer these systems in different variations such as preconfigured storage systems with drives, or as unpopulated enclosures having open bays where customers can insert hard-disk drives to add to the overall storage capacity. Moreover, the devices with multiple hard drives often come equipped with Redundant Array of Independent Disks (RAID) capability, which enables the storage of duplicated data across multiple hard drives. When one drive stops functioning properly, users can simply replace it and the data automatically repopulate the new drive.

As companies are increasingly turning toward server virtualization, the network attached storage solutions are gaining renewed attention. They facilitate flexible, reliable, and highly scalable networked storage in virtualized environments. Small businesses are majorly adopting the storage technology to benefit from the features such as lower cost of storage infrastructure, easy and reliable data backup capability, centralized data storage, and continuous availability of enterprise data. This makes it easier for employees to seamlessly collaborate and respond to customers in a timely fashion. SMBs can leverage NAS solutions to add the storage capacity in an affordable way, share capacity with other parties (customers, suppliers), and automatically & continuously backup their critical business data.

North America held the majority market share of around 48% in 2017 due to early adoption of the advanced storage technology by the enterprises in the U.S. Also, with large-scale adoption of cloud platforms and extensive presence of cloud infrastructure by the leading global players such as Amazon Web Services (AWS), Microsoft, and IBM in the region, the adoption of NAS solutions in North America is expected to grow consistently over the forecast timeline.

Request a discount on standard prices of this premium report at: https://www.marketstudyreport.com/check-for-discount/1130969/

The competition in the NAS market is primarily characterized by the consistent product development and innovation initiatives by the companies to strengthen their NAS product portfolio and diversify it with solutions specifically meant for different target market segments such as home/consumer, SMBs, and enterprise customers. Consumer applications of the storage technology are growing rapidly due to the vast amount of data being generated by social networking platforms, digital entertainment platforms, and smart home automation & surveillance systems. This increasing trend of storing and sharing multimedia content among consumers has prompted NAS manufacturers to aggressively develop and commercialize consumer-oriented solutions to gain a competitive advantage in the rapidly growing market.

Table of Content:
Chapter 1 Methodology & Scope

Chapter 2 Executive Summary

Chapter 3 Network Attached Storage (NAS) Industry Insights

Chapter 4 Competitive Landscape, 2017

Chapter 5 Network Attached Storage (NAS) Market, By Architecture

Chapter 6 Network Attached Storage (NAS) Market, By Design

Chapter 7 Network Attached Storage (NAS) Market, By Deployment Model

Chapter 8 Network Attached Storage (NAS) Market, By application

Chapter 9 Network Attached Storage (NAS) Market, By Region

Chapter 10 Company Profiles

More Details on this Report At: https://www.marketstudyreport.com/reports/network-attached-storage-nas-market

Related Report:
2018 Global Network Attached Storage (NAS) Systems Industry Report - History, Present and Future

The global market size of Network Attached Storage (NAS) Systems is $XX million in 2017 with XX CAGR from 2013 to 2017, and it is expected to reach $XX million by the end of 2023 with a CAGR of XX% from 2018 to 2023.

https://www.marketstudyreport.com/reports/2018-global-network-attached-storage-nas-systems-industry-report-history-present-and-future/?utm_source=RR-PSR

About Us:

Marketstudyreport.com allows you to manage and control all corporate research purchases to consolidate billing and vendor management. You can eliminate duplicate purchases and customize your content and license management.

Contact Us:
Market Study Report LLC

4 North Main Street,

Selbyville, Delaware 19975

USA

Phone: 1-302-273-0910

US Toll Free: 1-866-764-2150

Email: [email protected]

Web site: https://www.marketstudyreport.com

Blog: https://www.marketstudyreport.com/blog/