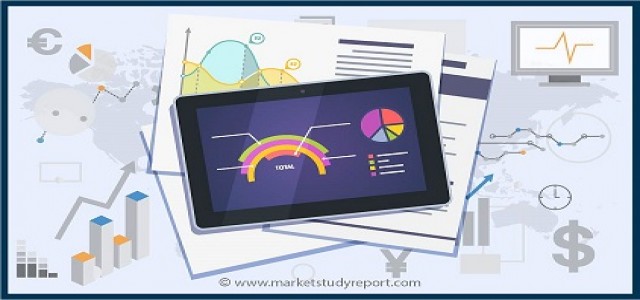 Market Study Report LLC Adds New, 2019-2024 Global Molecular Diagnostics Market Report to its research database presenting an informative study covering the market with detailed analysis. The Global Molecular Diagnostics market research report is a professional and in-depth study on the current state of global Industry.
Increasing accessibility to diagnostic services and consequent increase in availability of molecular diagnostic methods to masses, especially those belong to developing regions will drive the molecular diagnostics market over the forecast period. Robust research and development in the field of molecular diagnostics aimed at the development of superior products, increasing incidences of infectious diseases and rising geriatric population will further support molecular diagnostic market growth. However, the industry face some challenges such as high cost and lack of clear regulatory framework that is expected to impede its growth to some extent.
Request a sample of this premium report at: https://www.marketstudyreport.com/request-a-sample/467710/?utm_source=reportsgo.com-SP
Molecular Diagnostics Market will exceed USD 12.5 billion by 2024; as per a new research report. Molecular diagnostics has been observed to play significant role in not just identification of infections but also in therapeutic monitoring, patient stratification and drug regimen selection over the past few years. Healthcare providers are increasingly looking for accurate and reliable diagnostic techniques that provide results at highest possible speed. Reliability and accuracy is of highest importance as the errors in diagnosis have serious repercussions. This has created lucrative opportunity for innovative and technologically superior molecular diagnostic techniques.
Infectious disease application segment accounted for more than 45% revenue share in the global molecular diagnostics market in 2017. Infectious diseases including HIV and tuberculosis are responsible for significant mortality and morbidity across the globe and government authorities are trying to curb the economic burden associated with these infectious diseases. As the molecular diagnostics allows better management of infectious diseases and enables early and accurate diagnosis, its demand will augment over the forecast period.
India Molecular diagnostics market accounted for USD 202.7 million in 2017 and is forecasted to witness robust growth in coming years. Presence of large patient pool suffering from infectious diseases like tuberculosis and HIV has created immense unmet need of superior diagnostic technologies. Rising accessibility to healthcare services and developing healthcare infrastructure will boost the Indian molecular diagnostics market.
Request a discount on standard prices of this premium report at: https://www.marketstudyreport.com/check-for-discount/467710/?utm_source=reportsgo.com-SP
PCR technology segment estimated to witness 6.6% CAGR over the analysis period. The segment currently represents largest portion of molecular diagnostics market and it is likely to retain its position in near future. Ongoing technological advancements such as development of real time PCR will further drive the segment growth.
Some of the notable players operating in global molecular diagnostics market include Siemens Healthcare, BioMerieux's, Qiagen Gaithersburg, Roche diagnostics, Cepheid, Agilent (Dako), Johnson and Johnson, GenMark diagnostics, Alere Inc. and Analytik Jena. Key industry players primarily focus on acquisitions, strategic partnerships, and new product development retain their market position.
Table of Content:
Chapter 1. Methodology
1.1. Methodology
1.2. Market definition
1.3. Forecast parameters
1.4. Data sources
1.4.1. Secondary
1.4.1.1. Paid sources
1.4.1.2. Unpaid sources
1.4.2. Primary
Chapter 2. Executive Summary
2.1. Molecular diagnostics industry 360º synopsis, 2013 - 2024
2.1.1. Business trends
2.1.2. Application trends
2.1.3. Technology trends
2.1.4. Regional trends
Chapter 3. Molecular Diagnostics Industry Insights
3.1. Industry segmentation
3.2. Industry landscape, 2013 - 2024
3.3. Industry impact forces
3.3.1. Growth drivers
3.3.1.1. Technological advances and increasing awareness towards early disease diagnosis
3.3.1.2. Escalating demand for POC diagnostics
3.3.1.3. Increasing geriatric population
3.3.1.4. Increasing number of R&D initiatives
3.3.1.5. Upward trend in infectious disease prevalence
3.3.2. Industry pitfalls & challenges
3.3.2.1. Lack of clear and uniform regulatory framework
3.3.2.2. Increasing cost of disease diagnostics
3.4. Growth potential analysis
3.4.1. By application
3.4.2. By technology
3.5. Technology landscape
3.5.1. Product innovation
3.6. Pipeline analysis
3.7. Pricing analysis
3.7.1. Average regional prices
3.8. Porter's analysis
3.9. Competitive landscape, 2017
3.9.1. Strategy dashboard
3.10. PESTEL analysis
Chapter 4. Molecular Diagnostics Market, By Application
Chapter 5. Molecular Diagnostics Market, By Technology
Chapter 6. Molecular Diagnostics Market, By Region
Chapter 7. Molecular Diagnostics Market Company Profiles
For more information on this report at: https://www.marketstudyreport.com/reports/molecular-diagnostics-market?utm_source=reportsgo.com-SP
Related Reports: -
Global Oncology Molecular Diagnostics Market Size, Status and Forecast 2019-2025
Molecular diagnostics is one of the most transformative and dynamic areas of diagnostics. It is a technique used for analyzing biological markers in proteome and genome. Molecular diagnostics tests are increasingly used in oncology, infectious disease, pharmacogenomics, and human leukocyte antigen typing.
https://www.marketstudyreport.com/reports/global-oncology-molecular-diagnostics-market-size-status-and-forecast-2019-2025/?utm_source=RR-SP
About Us:
Marketstudyreport.com allows you to manage and control all corporate research purchases to consolidate billing and vendor management. You can eliminate duplicate purchases and customize your content and license management.
Contact Us:
Market Study Report LLC,
4 North Main Street,
Selbyville, Delaware 19975
USA
Phone: 1-302-273-0910
US Toll Free: 1-866-764-2150
Email:[email protected]
Website:https://www.marketstudyreport.com
Blog: https://www.marketstudyreport.com/blog/