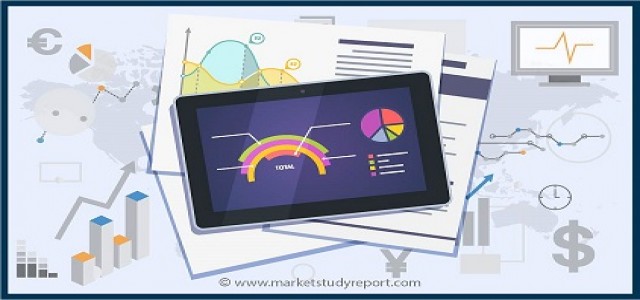 Global Medical Electronics Market Report added by Market Study Report LLC offers industry size, share, growth, trends and forecast analysis up to 2025. Medical Electronics Market Report also covers top key players, porters five forces analysis and market segmentation in detail. This report examines the global Medical Electronics market and provides information regarding the revenue for the period 2019 to 2025.
Technological advancements introduced in diagnostic and therapeutic devices should favor industry growth. Availability of emerging microtechnology and nanotechnology electronics such as diagnostic chips for remote monitoring of vital organs such as brain, heart, lung, liver and kidney will positively impact the industry growth in upcoming years. However, regulatory compliances involved with product development, marketing and manufacturing would limit independent decision making for companies such as changing supplier or changing part of machine that may impede medical electronics industry growth over the coming years.
Request a sample of this premium report at: https://www.marketstudyreport.com/request-a-sample/616484/?utm_source=reportsgo.com-SP
Medical Electronics Market will exceed USD 169 billion by 2025; as per a new research report. Increasing demand for minimally invasive surgeries will render significant positive impact on medical electronics industry growth. Geriatric population generally prefers minimally invasive surgeries as it involve less complications. According to United Nations, the global geriatric population in 2017 was 962 million and majority of the geriatric population suffers from chronic ailments. This scenario proves beneficial for the industry growth as it elevates the demand for recently developed medical electronic devices utilized in minimally invasive surgeries.
Diagnostics segment was valued at USD 45.7 billion in 2018 and is projected to experience significant growth over the forecast period. Increasing awareness regarding benefits of early diagnosis will propel the demand for better and accurate diagnostic medical electronics. Moreover, increasing R&D efforts by major players that enable developments in diagnostic devices will surge the segmental growth. For instance, Siemens introduced ACUSON SC2000 cardiovascular ultrasound diagnostic machine that is integrated with advanced technology and supports accurate diagnosis.
North America medical electronics market accounted 44.9% market share in 2018. The major factors driving the North America regional growth includes high healthcare expenditure, increased income levels and high adoption rates of advanced medical electronic equipment. Innovative products manufactured by various medical electronics companies will further boost regional market growth during the forecast years.
Hospital segment accounted for considerable revenue share and is expected to witness 13% growth during forecast period. Rising cost containment measures undertaken by regulatory authorities to provide affordable healthcare services to patients without compromising on quality of service has raised the demand for medical electronic devices in hospitals to provide effective diagnosis and treatment.
Request a discount on standard prices of this premium report at: https://www.marketstudyreport.com/check-for-discount/616484/?utm_source=reportsgo.com-SP
China medical electronic devices dominated the Asia Pacific market and is estimated to grow at 13.4% throughout forecast period. Growth is primarily driven by soaring dominance of diseases coupled with growing geriatric population and rising per capita income. Furthermore, favorable reimbursement scenario associated with manufacturing and marketing of electronic devices will positively influence the industry growth.
Some of the prominent business players operating in medical electronics market include Abbott, Boston scientific, Carestream Health, Fujifilm Medical system, GE Healthcare, Hitachi High Technologies Corporation, Maxim Integrated, Samsung electronics, and Toshiba Corporation. Companies focus on strategic alliances to strengthen their market position and capitalize on market opportunities. For instance, in September 2017, Siemens introduced 5.0 version of ACUSON SC2000 cardiovascular ultrasound system. The system was designed to integrate angiography images with ultrasound results to gain accurate results and assist in treatment decisions. Introduction of new medical devices will strengthen company?s already existing product portfolio.
Table of Content:
Chapter 1. Methodology
1.1. Methodology
1.2. Market definitions
1.3. Forecast parameters
1.4. Data sources
1.4.1. Secondary
1.4.1.1. Paid sources
1.4.1.2. Unpaid sources
1.4.2. Primary
Chapter 2. Executive Summary
2.1. Medical electronics industry 360 degree synopsis, 2014 - 2025
2.1.1. Product trends
2.1.2. End-use trends
2.1.3. Regional trends
Chapter 3. Medical Electronics Industry Insights
3.1. Industry segmentation
3.2. Industry landscape, 2014 - 2025
3.3. Industry impact forces
3.3.1. Growth drivers
3.3.1.1. Adopting convergence of technologies - Medical, IT and telecom
3.3.1.2. Increase in the push towards minimally invasive surgeries
3.3.1.3. Leasing of capital-intensive machines
3.3.1.4. Attractive policies for FDI
3.3.2. Industry pitfalls and challenges
3.3.2.1. Heightened regulatory scrutiny
3.3.2.2. New healthcare delivery models
3.4. Market entry analysis
3.4.1. U.S.
3.4.2. Europe
3.4.2.1. Germany
3.4.2.2. Italy
3.4.2.3. Russia
3.4.3. Asia Pacific
3.4.3.1. China
3.4.3.2. India
3.4.3.3. Japan
3.5. Growth potential analysis
3.5.1. By product
3.5.2. By end-use
3.6. Porter's analysis
3.7. Competitive landscape, 2017
3.7.1. Strategy dashboard
3.8. PESTEL analysis
Chapter 4. Medical Electronics Market, By Product
Chapter 5. Medical Electronics Market, By End-use
Chapter 6. Medical Electronics Market, By Region
Chapter 7. Medical Electronics Market Company Profiles
For more information on this report at: https://www.marketstudyreport.com/reports/medical-electronics-market/?utm_source=reportsgo.com-SP
Related Report:
Southeast Asia Medical Electronics Market Report (2014-2024) - Market Size, Share, Price, Trend and Forecast
This report is an essential reference for who looks for detailed information on Southeast Asia Medical Electronics market. The report covers data on Southeast Asia markets including historical and future trends for supply, market size, prices, trading, competition and value chain as well as Southeast Asia major vendors?? information. In addition to the data part, the report also provides overview of Medical Electronics market, including classification, application, manufacturing technology, industry chain analysis and latest market dynamics. Finally, a customization report in order to meet user's requirements is also available.
https://www.marketstudyreport.com/reports/southeast-asia-medical-electronics-market-report-2014-2024-market-size-share-price-trend-and-forecast?utm_source=RR-SP
Read more at: https://www.marketwatch.com/press-release/downhole-tools-market-size-rising-at-more-than-45-cagr-during-2019-2025-analysis-of-key-players-trends-drivers-2019-08-06
About Us:
Marketstudyreport.com allows you to manage and control all corporate research purchases to consolidate billing and vendor management. You can eliminate duplicate purchases and customize your content and license management.
Contact Us:
Market Study Report LLC
4 North Main Street,
Selbyville, Delaware 19975
USA
Phone: 1-302-273-0910
US Toll Free: 1-866-764-2150
Email: [email protected]
Website: https://www.marketstudyreport.com
Blog: https://www.marketstudyreport.com/blog/