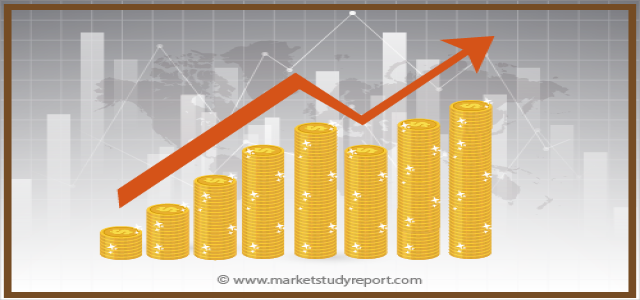 MarketStudyReport.com Adds New Industrial Gas Turbine Market 2018– 2024 research report providing information and data By Capacity, By Product, By Technology, By Application, Industry Analysis, Regional Outlook, Application Development Potential, Trends, Competitive Market Share & Forecast spreading across 343 Pages with table and figures in it.
Industrial gas turbine market across North America is anticipated to witness upsurge subject to growing focus on CCGT power plant capacity additions. Electricity generation through combined cycle gas turbine technologies is reinforced by the existence of huge & untapped gas reserves, lower construction time and higher efficiency.
Request a sample of this premium report at: https://www.marketstudyreport.com/request-a-sample/467573/?utm_source=Reportsgo-AN
Aero-derivative industrial gas turbine market has gained substantial escalation on account of the accessibility & availability of mobile and highly flexible product technologies. These units have varied application portfolio which include utility generation, district heating and marine propulsion. Furthermore, technological advancements have aligned industry focus towards the manufacture of high capacity turbines and cost competitiveness in comparison to traditional units.
Eminent industrial gas turbine market participants comprise of Zorya-Mashproekt, MAN Energy Solutions, Ansaldo Energia Spa, Capstone Turbine Corporation, UEC Saturn, Mitsubishi Hitachi Power Systems Ltd, Siemens AG, Kawasaki Heavy Industries Ltd, Bharat Heavy Electricals Limited, Opra Turbines B.V., Wärtsilä, Vericor Power Systems, Solar Turbines Incorporated, Centrax Gas Turbines, General Electric.
In 2017, power generation accounted for over 40% of the global industrial gas turbine market share. Increasing emphasis toward the restoration of traditional coal and steam fired power stations with various renewable energy electricity generating power plants will escalate the business growth. Nowadays, gas turbine units are used universally across base load, peak load networks along with standby power generating stations. Strengthening of industry & regulatory protocols in line with ongoing technological advancements to serve a large customer base through maintaining efficiency & reliability will boost the industry potential.
The open cycle industrial gas turbine market will witness an upsurge owing to lower warm up time, size compactness, operational flexibility, light weight, quick start and less dependence on cooling water. These units find extensive applicability for power generation and mechanical drives across the land-based industries. Furthermore, huge manufacturing industries in line with offshore power generation plants have constantly integrated a sustainable demand for the technology.
Request a discount on standard prices of this premium report at: https://www.marketstudyreport.com/check-for-discount/467573/?utm_source=Reportsgo-AN
Diverse applications across process industry and small-scale power generating plants will complement the 70 MW to 300 MW units. Rapid development of co-generating units to endure energy & heat consumption across commercial, isolated grid networks and small industries will augment the technological adoption. Moreover, ongoing developments subject to the growth of effective re-generative gas turbine units to withstand low heat requirements across these installations will further boost the overall industrial gas turbine market.
Table of Content:
Chapter 1. Methodology and Scope
Chapter 2. Executive Summary
Chapter 3. Industrial Gas Turbine Industry Insights
Chapter 4. Industrial Gas Turbine Market, By Product
Chapter 5. Industrial Gas Turbine Market, By Capacity
Chapter 6. Industrial Gas Turbine Market, By Technology
Chapter 7. Industrial Gas Turbine Market, By Application
Chapter 8. Industrial Gas Turbine Market, By Region
Chapter 9. Company Profiles
For More Details on this Report At: https://www.marketstudyreport.com/reports/industrial-gas-turbine-market
Related Report:
2018-2023 Global Aeroderivative Gas Turbine Consumption Market Report
This report presents a comprehensive overview, market shares, and growth opportunities of Aeroderivative Gas Turbine market by product type, application, key manufacturers and key regions. The aeroderivative gas turbines are derived from jet engines. Take a jet engine, remove the fan, fan case and the thrust nozzle, mount it on ground, install the load (compressor or generator) on a seperate shaft and aerodynamically couple the power turbine to the jet engine you get an aeroderivative gas turbine. Aeroderivative gas turbines find wide application in various end-user segments, such as mobility power generation (primarily composed of marine and aeronautical applications); and oil and gas, food processing, paper and pulp, and chemical industries
https://www.marketstudyreport.com/reports/2018-2023-global-aeroderivative-gas-turbine-consumption-market-report/?utm_source=RR-PSR
About Us:
Marketstudyreport.com allows you to manage and control all corporate research purchases to consolidate billing and vendor management. You can eliminate duplicate purchases and customize your content and license management.
Contact Us:
Market Study Report
4 North Main Street,
Selbyville, Delaware 19975
USA
Phone: 1-302-273-0910
US Toll Free: 1-866-764-2150
Email: [email protected]
Website: https://www.marketstudyreport.com