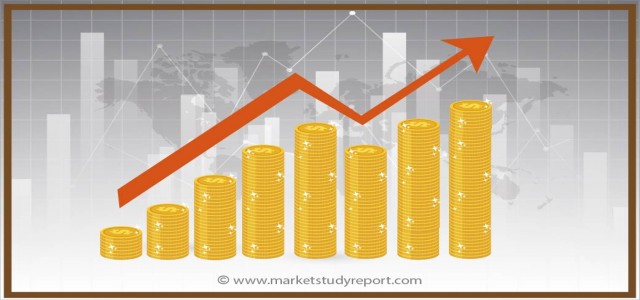 The report presenting a comprehensive exploration of the global Hydrogen Fuel Cells encloses the rate of growth of the market over the projected duration. Providing a concise synopsis, the report determines the valuation and size of the Hydrogen Fuel Cells in the near future. It also includes the major contributing factors to the growth of the global Hydrogen Fuel Cells as well as the dominating players in the market coupled with their market share.
This report focuses on the Hydrogen Fuel Cells in global market, especially in North America, Europe and Asia-Pacific, South America, Middle East and Africa. This report categorizes the market based on manufacturers, regions, type and application.
Request Sample of this report at: https://www.marketstudyreport.com/request-a-sample/1544793/
Hydrogen fuel cells use hydrogen as a chemical element and are made into batteries that store energy. The basic principle is the reverse reaction of electrolysis of water, hydrogen and oxygen were supplied to the cathode and anode, hydrogen diffusion through the cathode and the electrolyte reaction, the release of electrons through the external load to reach the anode.
A hydrogen fuel cell is a power plant that utilizes the inverse process of electrolyzed water to generate electricity as well as the only emissions: water. Clean and environmentally friendly, and high energy density, compared to the battery on the market can have a longer battery life.
Japan was the largest consumer market with a market share of 27.31% in 2011 and 30.12% in 2015 with an increase of 10.28%. North America and Other ranked the second and third markets with the market share of 25.34% and 20.16% in 2015. Nowadays, the top three companies make up more than 46% market share of the Hydrogen Fuel Cells market in 2015, and the world's large enterprises are mainly concentrated in Japan and South Korea, and North America. The top three manufacturers are Ballard Power Systems Inc. (BLDP) Toshiba and PLUG Power. They respectively with global production market share as 17.36%, 16.68%, and 11.93% in 2015.
Segment by Manufacturers, this report covers:
Ballard Power, Toshiba, PLUG Power, Fuelcell Energy, Hydrogenics, Doosan Fuel Cell, Horizon, Intelligent Energy, Hyster-Yale Group, Nedstack, Pearl Hydrogen, Sunrise Power.
Request discount on standard prices of this report at: https://www.marketstudyreport.com/check-for-discount/1544793/
Market Segment by Type, covers:
Air-cooled Type
Water-cooled Type
Market Segment by Applications, can be divided into:
Stationary
Transport
Portable
Research objectives
To study and analyze the global Hydrogen Fuel Cells (value & volume) by key regions/countries, product type and application, history data from 2014 to 2019, and forecast to 2024.
To understand the structure of Hydrogen Fuel Cells market by identifying its various subsegments.
Focuses on the key global Hydrogen Fuel Cells manufacturers, to define, describe and analyze the sales volume, value, market share, market competition landscape, SWOT analysis and development plans in next few years.
To analyze the Hydrogen Fuel Cells with respect to individual growth trends, future prospects, and their contribution to the total market.
To share detailed information about the key factors influencing the growth of the market (growth potential, opportunities, drivers, industry-specific challenges and risks).
To project the consumption of Hydrogen Fuel Cells submarkets, with respect to key regions (along with their respective key countries).
To analyze competitive developments such as expansions, agreements, new product launches, and acquisitions in the market.
To strategically profile the key players and comprehensively analyze their growth strategies.
Table of Contents:
1 Market Overview
2 Manufacturers Profiles
3 Global Hydrogen Fuel Cells Sales, Revenue, Market Share and Competition by Manufacturer (2017-2018)
4 Global Hydrogen Fuel Cells Market Analysis by Regions
5 North America Hydrogen Fuel Cells by Country
6 Europe Hydrogen Fuel Cells by Country
7 Asia-Pacific Hydrogen Fuel Cells by Country
8 South America Hydrogen Fuel Cells by Country
9 Middle East and Africa Hydrogen Fuel Cells by Countries
10 Global Hydrogen Fuel Cells Market Segment by Type
11 Global Hydrogen Fuel Cells Market Segment by Application
12 Hydrogen Fuel Cells Market Forecast (2019-2024)
13 Sales Channel, Distributors, Traders and Dealers
14 Research Findings and Conclusion
15 Appendix
More Details on this Report At: https://www.marketstudyreport.com/reports/global-hydrogen-fuel-cells-market-2019-by-manufacturers-regions-type-and-application-forecast-to-2024#2
Related Report:
Global Direct Methanol Fuel Cells Market Insights, Forecast to 2025
The growing demand for clean energy has been accompanied by depletion of fossil fuels, which has shifted the focus toward fuel cell markets. The DMFC market is still in its initial development phase in all the regions due to slow infrastructure development for refueling of fuel cells, technical limitations, and use of expensive materials for its manufacturing. Government initiatives and grants for fuel cell research, investments from financial institutions, high-energy storage density as compared with batteries and other fuel cells, growing demand for clean energy, and use of cheaper metals for its manufacturing are driving the growth of the global DMFC market.
https://www.marketstudyreport.com/reports/global-direct-methanol-fuel-cells-market-insights-forecast-to-2025
About Us:
Marketstudyreport.com allows you to manage and control all corporate research purchases to consolidate billing and vendor management. You can eliminate duplicate purchases and customize your content and license management.
Contact Us:
Market Study Report LLC
4 North Main Street,
Selbyville, Delaware 19975
USA
Phone: 1-302-273-0910
US Toll Free: 1-866-764-2150
Email: [email protected]
Website: https://www.marketstudyreport.com