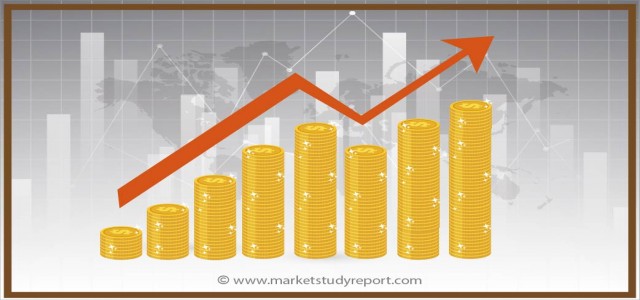 MarketStudyReport.com Adds New GPON Market 2018– 2024 research report providing information and data By Component, By Technology, By Application, By End Use, Industry Analysis, Regional Outlook, Growth Potential, Trends, Competitive Market Share & Forecast spreading across 280 Pages with table and figures in it.

North America is estimated to hold the largest market share of over 20% by 2024 due to the rise in the adoption of FTTH network solutions to provide high-speed internet services. Huge investments in the roll-out of 5G networks will also augment the demand for GPON technology in the region. GPON networks will provide the support for the 5G network infrastructure to address the latency constraints and capacity needs for future-ready networks.

Request a sample of this premium report at: https://www.marketstudyreport.com/request-a-sample/1357094/

GPON market is projected to surpass USD 16 billion by 2024. GPON networks are becoming extremely popular due to the introduction of new services such as Video on Demand (VoD) and IP television (IPTV) transmission along with the availability of high-speed internet access. As these services demand high bandwidth and scalability, the high-capacity networks are deployed to satisfy the network capacity requirements. GPON networks use fiber optics to create a point-to-multipoint network, granting access to individual users to any Ethernet end-point. Additional benefits associated with the deployment of these networks include greater range up to 10 to 20 km, lower costs, and flexible infrastructure capacity.

Managed services are expected to grow at a CAGR of over 11% from 2018 to 2024 due to the growing need among enterprises to optimize network performance and improve operational efficiency. The managed service providers offer remote monitoring and support for the management of the fiber optic network, enhancing productivity and improving service availability. As GPON networks provide a wide range of benefits to residential and commercial customers, the demand for managed services will increase over the forecast timeline.

The FTTH segment is projected to hold a major market share of over 40% in 2024. The market growth is driven by an increasing number of FTTH installations in residences to provide high-speed internet access. As FTTH network solutions allow consumers to bundle their communication services such as video, audio, and data, the demand for these solutions is expected to grow consistently between 2018 and 2024.

The XGS-PON segment in the GPON market is estimated to grow at a CAGR of around 12% over the forecast timeline. The market growth is attributed to the factor that XGS-PON can co-exist with GPON and NG-PON2, allowing operators to deploy the next-generation GPON networks at low costs. This allows them to extend their service offerings while delivering high-bandwidth services to their customers to support connectivity requirements.

The emergence of 5G networks will also accelerate the GPON market growth as they can transmit the data significantly faster and they are designed to support modern IoT use cases. As these networks are expected to provide a better coverage and support high-bandwidth intensive applications, the demand for FTTH networks will grow to support the 5G infrastructure.

Request a discount on standard prices of this premium report at: https://www.marketstudyreport.com/check-for-discount/1357094/

Eminent GPON market participants comprise of ADTRAN Inc, Allied Telesis, Alphion Corporation, AT&T Inc, Broadcom Inc, Calix Corporation, Cisco Inc, DASAN Zhone Solutions, Ericsson, FiberHome, Hitachi Ltd, Huawei Technologies Co, Iskratel, NEC Corporation, Nokia Corporation, NXP Semiconductors N.V., Tellabs Inc, Verizon Wireless, ZTE Corporation, Zyxel Communications Corp.

Table of Content:
Chapter 1. Methodology & Scope
Chapter 2. Executive Summary
Chapter 3. GPON Industry Insights
Chapter 4. Competitive Landscape, 2017
Chapter 5. GPON Market, By Component
Chapter 6. GPON Market, By Technology
Chapter 7. GPON Market, By Application
Chapter 8. GPON Market, By End Use
Chapter 9. GPON Market, By Region
Chapter 10. Company Profiles
For More Details on this Report At: https://www.marketstudyreport.com/reports/gpon-market
Related Report:
Global GPON Equipments Market 2018 by Manufacturers, Regions, Type and Application, Forecast to 2023
GPON (Gigabit Passive Optical Network) is a point-to-multipoint access network. It consists of mainly two active transmission equipment's, optical line termination (OLT) and optical network unit (ONU). GPON supports high-bandwidth, long reach and triple-play services. It is designed to carry both analog POTS and data services. This delivers the highest speed, longest life, future proof, lowest cost network infrastructure. Increasing demand for bandwidth due to streaming video, content sharing, social media application and online gaming is constantly pushing the requirement for the higher bit rates and better experience. GPON infrastructure comprises a single optical fiber, which is accessed by multiple users via optical splitters. Thus, GPON is considered as the most cost-effective technology for FTTH (fiber to the home) deployments. Furthermore, increase in adoption of such services and growth in investments from both public & private sectors are expected to drive the global market.
https://www.marketstudyreport.com/reports/global-gpon-equipments-market-2018-by-manufacturers-regions-type-and-application-forecast-to-2023
About Us:
Marketstudyreport.com allows you to manage and control all corporate research purchases to consolidate billing and vendor management. You can eliminate duplicate purchases and customize your content and license management.
Contact Us:
Market Study Report LLC
4 North Main Street,
Selbyville, Delaware 19975
USA
Phone: 1-302-273-0910
US Toll Free: 1-866-764-2150
Email: [email protected]
Website: https://www.marketstudyreport.com