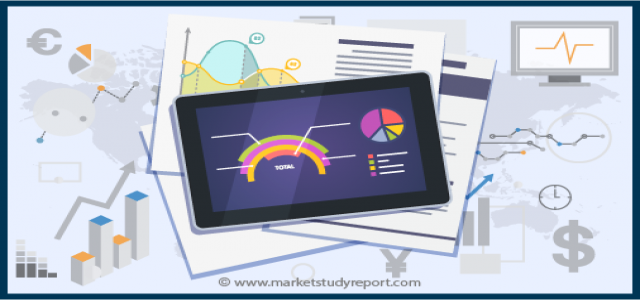 MarketStudyReport.com Adds New Genetic Testing Market 2018 – 2024 research report providing information and data By Test Type, By Application, Industry Analysis, Regional Outlook, Growth Potential, Competitive Market Share & Forecast spreading across 160 Pages with table and figures in it.
U.S. genetic testing market dominated the industry owing to increasing prevalence of chronic diseases, developed healthcare facilities and technological advancements. Rising prevalence of genetic diseases such as cancer, cardiac disease, neurofibromatosis, cystic fibrosis, Turner syndrome and spinal muscular atrophy will augment the market growth. Moreover, increasing insurance coverage and regulatory support for direct to consumer (DTC) genetic testing coupled with reduction in the cost of genetic tests is expected to propel the demand for genetic testing in the U.S. over the forecast period.
Request a sample of this premium report at: https://www.marketstudyreport.com/request-a-sample/1130965/?utm_source=Reportsgo-AN
Availability of new tests owing to technological advancements in the field of genetic testing will serve to be high impact rendering factor. Demand for genetic testing is increasing due to the development of non-invasive tests that can be used in detection of genetic abnormalities during early pregnancy. Availability of highly sensitive and efficient tests for early diagnosis of diseases will boost the market growth. Moreover, increasing consumer demand for personalized medicines based on molecular basis of the diseases will further drive the genetic testing market during the forthcoming years.
Genetic Testing Market will reach USD 22.5 billion by 2024; as per a new research report. Increasing prevalence of cancer and other genetic diseases worldwide will drive industry growth over the forecast timeframe. Breast cancer is the second leading cause of cancer deaths among women. According to the Pan American Health Organization (PAHO), around 4,08,200 breast cancer cases and 92,000 cancer deaths were recorded in 2013. The number of breast cancer cases in Americas is expected to grow by 46% by 2030. Furthermore, increasing awareness among patients pertaining to early detection of diseases helps patients to undergo timely treatment and minimize the risks associated with the diseases. Aforementioned factors are expected to fuel the demand for genetic testing thereby propelling the market growth.
However, dearth of experienced professionals and lack of advanced infrastructure in developing region will impede the industry growth. Furthermore, high costs involved in genetic testing will hamper the growth of genetic testing market.
Diagnostic testing dominated the genetic testing market and accounted for USD 5,690.6 million in 2017. It is expected to witness robust growth during the forecast period attributable to the increasing prevalence of chronic diseases worldwide. Diagnostic testing enables early diagnosis of diseases allowing patients to undergo timely therapeutic treatment, lower the severity of diseases and reduce the mortality rate.
Request a discount on standard prices of this premium report at: https://www.marketstudyreport.com/check-for-discount/1130965/?utm_source=Reportsgo-AN
Cardiovascular disease diagnosis segment is expected to grow at the fastest rate during the forthcoming years. Cardiac diseases are the leading cause of deaths worldwide and are caused by a combination of genetic and environmental factors. The onset and treatment of CVDs can be controlled if it is diagnosed prior to manifestation of actual disease in patients with high risk of developing a CVD. Genetic testing helps to reliably determine an individual?s risk to develop CVDs based on their genetic data using preventive genetic screening.
Some of the notable industry players operating in global genetic testing market are 23andMe, Abbott Molecular, Bayer Diagnostics, Biocartis, BioHelix, BioMerieux, BGI, Celera Genomics, Cepheid, Counsyl, deCODEme, Genentech, Genomictree, Genomic Health, HTG Molecular Diagnostics, IntegraGen, LabCorp Diagnostics, Luminex, MolecularMD, Myriad, Natera, PacBio, Pathway Genomics, Qiagen, Roche Diagnostics, Sequenom and Siemens.
Major industry players are primarily focusing on acquisitions and collaborations as their key strategies. They are increasing their emphasis on enhancing and strengthening the product portfolio to enhance their existing systems.
Table of content:
Chapter 1. Methodology
1.1. Methodology
1.2. Market definition
1.3. Forecast parameters
1.4. Data sources
1.4.1. Secondary
1.4.1.1. Paid sources
1.4.1.2. Unpaid sources
1.4.2. Primary
Chapter 2. Executive Summary
2.1. Genetic testing industry 360º synopsis, 2013 - 2024
2.1.1. Business trends
2.1.2. Test type trends
2.1.3. Application trends
2.1.4. Regional trends
Chapter 3. Genetic Testing Industry Insights
3.1. Industry segmentation
3.2. Industry landscape, 2013 - 2024
3.3. Industry impact forces
3.3.1. Growth drivers
3.3.1.1. Growing application of genetic testing in oncology and genetic diseases in North America
3.3.1.2. Technological advancement and availability of new tests
3.3.1.3. Consumer interest in personalized medicine in Europe
3.3.1.4. Physician adoption of genetic tests into clinical care
3.3.1.5. Growing demand for direct-to-consumer genetic testing
3.3.2. Industry pitfalls & challenges
3.3.2.1. High cost of genetic testing
3.3.2.2. Dearth of experienced professionals in developing and underdeveloped countries
3.4. Regulatory landscape
3.4.1. U.S.
3.4.2. Europe
3.5. Growth potential analysis
3.5.1. By test type
3.5.2. By application
3.6. Porter's analysis
3.7. Competitive landscape, 2017
3.7.1. Strategy dashboard
3.8. PESTEL analysis
Chapter 4. Genetic Testing Market, By Test Type
4.1. Key segment trends
4.2. Predictive testing
4.2.1. Predictive testing market, by region, 2013-2024 (USD Million)
4.3. Carrier testing
4.3.1. Carrier testing market, by region, 2013-2024 (USD Million)
4.4. Prenatal and newborn testing
4.4.1. Prenatal and newborn testing market, by region, 2013-2024 (USD Million)
4.5. Diagnostic testing
4.5.1. Diagnostic testing market, by region, 2013-2024 (USD Million)
4.6. Pharmacogenomic testing
More Details on this Report At: https://www.marketstudyreport.com/reports/genetic-testing-market
Related Report:
Global Preimplantation Genetic Testing Market Size, Status and Forecast 2019-2025
Preimplantation genetic testing is a technique used to identify genetic defects in embryos created through in vitro fertilization (IVF) before pregnancy. Preimplantation genetic diagnosis (PGD) refers specifically to when one or both genetic parents has a known genetic abnormality and testing is performed on an embryo to determine if it also carries a genetic abnormality. In contrast, preimplantation genetic screening (PGS) refers to techniques where embryos from presumed chromosomally normal genetic parents are screened for aneuploidy.
https://www.marketstudyreport.com/reports/global-preimplantation-genetic-testing-market-size-status-and-forecast-2019-2025/?utm_source=RR-AN
About Us:
Marketstudyreport.com allows you to manage and control all corporate research purchases to consolidate billing and vendor management. You can eliminate duplicate purchases and customize your content and license management.
Contact Us:
Market Study Report LLC
4 North Main Street,
Selbyville, Delaware 19975
USA
Phone: 1-302-273-0910
US Toll Free: 1-866-764-2150
Email: [email protected]
Website: https://www.marketstudyreport.com