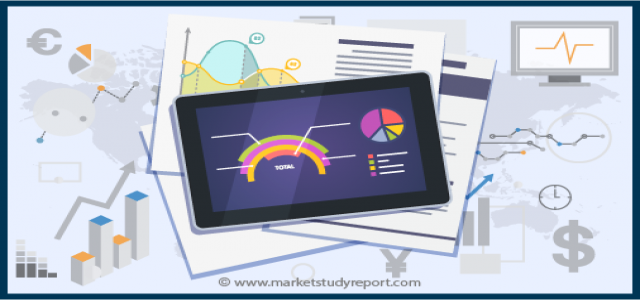 Market Study Report adds global global Electronic Shelf Label Market Report that gives meticulous investigation of current scenario of the market size, share, demand, growth, trends, companies active in the industry and forecasts for the coming years.

Asia Pacific electronic shelf label market will grow at a high rate due to positively changing consumption patterns and economic development of countries including India and China. Development of retail industry in the region due to swelling sales of consumables will positively impact the growth of industry in the region. Also, expansion of business by the international retailers in the region is one of the major factors for the increasing demand of these products. For instance, in August 2018, Swedish furniture giant Ikea expanded its presence by opening a store in India.

Request a sample of this premium report at: https://www.marketstudyreport.com/request-a-sample/467899/

The Electronic Shelf Label (ESL) Market report 2018-2024 provides a comprehensive landscape of the industry, accurate market estimates and forecast split By Product, By Technology, By Application and regions. All quantitative information is covered on a regional as well as country basis. The report provides valuable strategic insights on the Electronic Shelf Label (ESL), analyzing in detail industry impact forces including growth drivers, pitfalls and regulation evolution. The report also includes a detailed outlook on the Electronic Shelf Label (ESL) segment competitive environment, diving in to the industry position of each major company along with the strategic landscape.

LCD ESL market will hold a majority share in the industry due to low cost and high efficiency of LCD displays. These offer advantages such as low power consumption and bi-stable features that aid the industry growth. The full graphic e-paper ESL products are gaining prominence in the industry as these provide support for full graphic imaging and crisp display. Also, these products can work on the communication network that updates pricing in real-time.

RF-enabled ESL market will witness significant growth due to increasing adoption of radio frequency. Low cost of the technology is encouraging the small retailers to adopt the RF-enabled solutions. Also, RF technology is flexible and allows fast & easy rectification of issues. NFC-enabled electronic shelf label market will grow due to ease of use of these devices with other handheld devices by simply bringing the devices closer. Also, the technology enables communication between labels and tags.

Request a discount on standard prices of this premium report at: https://www.marketstudyreport.com/check-for-discount/467899/

Notable Electronic Shelf Label (ESL) market players comprise of Contents, Advantech U.S, Altierre, CEST Ltd, Displaydata, E Ink Corp, Herbert Ltd, LG Innotek, M2COMM, Mirador Marketing, Opticon, Pricer AB, Samsung Electro-Mechanics, SES-imagotag, SoluM, Teraoka Seiko Co., Ltd, Wincor Nixdorf.

Table of Content:
Chapter 1. Methodology and Scope
Chapter 2. Executive Summary
Chapter 3. ESL Industry Insights
Chapter 4. ESL Market, By Product
Chapter 5. ESL Market, By Technology
Chapter 6. ESL Market, By Application
Chapter 7. ESL Market, By Region
Chapter 8. Company Profiles
More Details on this Report At: https://www.marketstudyreport.com/reports/electronic-shelf-label-esl-market
Related Reports: -
Global Electronic Shelf Label (ESL) Market 2018 by Manufacturers, Regions, Type and Application, Forecast to 2023
Electronic Shelf Label (ESL) is a technology-intensive industry. There are less than twenty manufacturers in this industry. The top two manufacturers are Store Electronic Systems (imagotag) and Pricer in 2015. The other competitors include Displaydata, E Ink, Opticon Sensors Europe B.V,DIGI, Altierre, Hanshow Technology and new entrants like Panasonic, LG innotek and Samsung etc. There are also a number of smaller regional companies or companies that are attempting to develop products with a view to establishing a position on the market. With the restructuring of the sector, for example, if one or more competitors were to enter into an alliance with a strong partner, this could constitute a threat to other players in the market. The growth of Electronic Shelf Label (ESL) industry depends on the acceptance of retail store. At present, in developed countries, the Electronic Shelf Label (ESL) industry is generally at a more advanced level. The world's largest enterprises are mainly concentrated in Europe. Meanwhile, foreign companies have more advanced R & D capability and leading technical level. However, foreign companies? manufacturing cost is relatively higher, compared with Asia companies.The worldwide market for Electronic Shelf Label (ESL) is expected to grow at a CAGR of roughly 19.2% over the next five years, will reach 1790 million US$ in 2023, from 630 million US$ in 2017, according to a new study.

https://www.marketstudyreport.com/reports/global-electronic-shelf-label-esl-market-2018-by-manufacturers-regions-type-and-application-forecast-to-2023?utm_source=RR-PSR

About Us:

Marketstudyreport.com allows you to manage and control all corporate research purchases to consolidate billing and vendor management. You can eliminate duplicate purchases and customize your content and license management.

Contact Us:
Market Study Report LLC
4 North Main Street,
Selbyville, Delaware 19975
USA
Phone: 1-302-273-0910
US Toll Free: 1-866-764-2150
Email: [email protected]
Website: https://www.marketstudyreport.com
Blog: https://www.marketstudyreport.com/blog