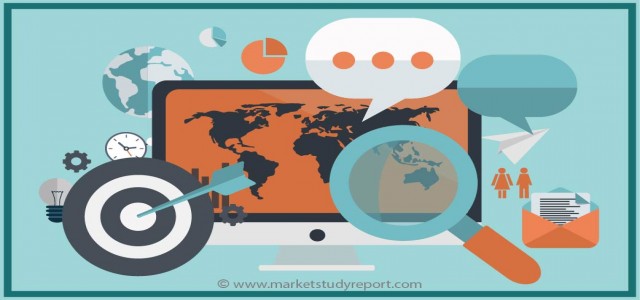 MarketStudyReport.com Adds New Digital Banking Market 2018 – 2024 research report providing information and data By Type, By Services, By Technology, Industry Analysis, Regional Outlook (North America, Europe, Asia Pacific, MEA), Growth Potential, Competitive Market Share & Forecast spreading across 240 Pages with table and figures in it.
Asia Pacific is dominating the digital banking market with over 60% stake in 2017. The growing penetration of internet services and the adoption of smartphones are supporting market growth. Moreover, the digitalization initiatives launched by the government of emerging economies including India and China will also foster the demand for digital banking.
Request a sample of this report at:
https://www.marketstudyreport.com/request-a-sample/1493814/
Transactional services account for more than 90% share in the digital banking market. The market growth is credited to the growing adoption of electronic & mobile payment solutions. As the younger population across the countries is increasing, the demand for faster, convenient, and safer payment solutions is also rising. This is encouraging banking institutes to develop their own mobile & online platforms and provide services on the digital channel to gain customer loyalty and reduce the churn rate.
Digital Banking Market is anticipated to surpass USD 9 trillion mark by 2024 due to the rising investments in the Fintech market. Fintech has emerged as the most disruptive technology and venture capitalists and angel investors are investing billions to take advantage of the lucrative market. The banking institutes are also collaborating and investing in Fintech companies to develop their own digital solutions for customers to meet the consumer requirements.
Retail banking holds over 75% share in the digital banking market. The market is driven by the rising adoption of the internet and smartphones across the countries. As the adoption of the internet services and smartphones is increasing, and the information is easily available to customers, the buying of consumers is increasing. This is forcing banking institutes to provide a better customer experience and reach customers on their choice of the channel. Moreover, the increasing adoption of mobile and electronic payment solutions and the attractive offers and incentives offered by the payment solution providers are also the major forces accelerating the adoption of digital banking.
The increasing adoption of mobile & online banking platforms is also propelling the market growth. As the adoption of smartphone and internet services across the countries is increasing, consumers prefer mobile applications and websites to access their banking accounts. Furthermore, the integration of the advanced technologies, such as AI and blockchain, into the banking is also fostering market growth.
Request a discount on standard prices of this report at: https://www.marketstudyreport.com/check-for-discount/1493814/
The key vendors operating in the digital banking market are Backbase, BNY Mellon, Appway Crealogix, EdgeVerve Systems, ebanklT ETRONIKA, Finastra, Fiserv, Fidor, IE Digital, Halcom Intellect Design Arena, NETinfo, NF Innova, Kony, SAB, SAP, Oracle, Sopra, TCS, Technisys, Tagit, Worldline, and Temenos.
Table of Content:
Chapter 1. Methodology & Scope
Chapter 2. Executive Summary
Chapter 3. Global Digital Banking Industry Insights
Chapter 4. Competitive Landscape
Chapter 5. Global Digital Banking Market, By Type
Chapter 6. Global Digital Banking Market, By Services
Chapter 7. Global Digital banking Market, By Region
Chapter 8 Company Profiles
For More Details On this Report: https://www.marketstudyreport.com/reports/digital-banking-market
Related Report:
North America and Europe Digital Banking Market by Manufacturers, Regions, Type and Application, Forecast to 2023
This report studies the Digital Banking market. In contrast to the traditional banking business model, Digital Banking is the move to online banking where banking services are delivered over the internet. It has all the same functions as a head office, branch office, online service, bank cards, ATM and point of sale machines. Market Segment by Manufacturers, this report covers
Urban FT
Kony
Backbase
Technisys
Infosys
Digiliti Money
Innofis
Mobilearth
https://www.marketstudyreport.com/reports/north-america-and-europe-digital-banking-market-by-manufacturers-regions-type-and-application-forecast-to-2023
About Us:
Marketstudyreport.com allows you to manage and control all corporate research purchases to consolidate billing and vendor management. You can eliminate duplicate purchases and customize your content and license management.
Contact Us:
Market Study Report LLC
4 North Main Street,
Selbyville, Delaware 19975
USA
Phone: 1-302-273-0910
US Toll Free: 1-866-764-2150
Email: [email protected]
Website: https://www.marketstudyreport.com