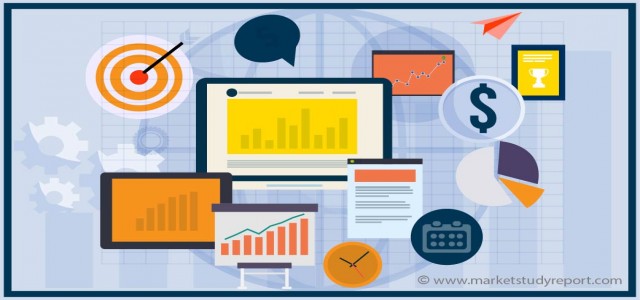 Market Study Report LLC has added a new report on Diagnostic Ultrasound market that provides a comprehensive review of this industry with respect to the driving forces influencing the market Share. Comprising the current and future trends defining the dynamics of this industry vertical, this report also incorporates the regional landscape of Diagnostic Ultrasound market in tandem with its competitive terrain.
Increasing birth rates in countries such as Russia, China and Germany will serve to be another positive impact rendering factor that will drive business growth over analysis timeframe. Ultrasound scans provide medical practitioners with vital information pertaining to the progress of pregnancy and baby's health. Capability of diagnostic ultrasound to detect anomalies in baby's position and actions inside the mother's womb will further propel industry growth.
Request a sample of this premium report at: https://www.marketstudyreport.com/request-a-sample/716649/?utm_source=reportsgo.com-SP
Diagnostic Ultrasound Market will exceed USD 7 billion by 2025; as per a new research report. Increasing prevalence of cardiac disease, liver diseases and other chronic diseases in low- and middle-income countries will stimulate diagnostic ultrasound market growth during the forthcoming years. Changing lifestyle habits such as alcohol and tobacco consumption, sedentary lifestyle and unhealthy diet will further support rise in chronic diseases thereby, augmenting business growth. According to WHO, more than 75% CVD deaths occur in low and middle-income countries. Adoption of diagnostic ultrasound in diagnosis of heart conditions, tumor, brain infections, stomach problems, abdominal cysts or abnormal growth of liver will further augment industry growth.
2D imaging segment is expected to witness 2.7% CAGR during the forecast timeframe. High acceptance for 2D ultrasound technology in middle to lower income countries will augment the segmental growth. For instance, China and India are contributing substantially to medical imaging equipment market with an effort to create a modern healthcare system. Thus, growing acceptance for 2D techniques in developing economies will further propel segmental growth.
Trolley segment accounted for more than 70% revenue share in 2018. These systems have been conventionally used for diagnostic ultrasound examinations prior to the introduction of the portable systems. Better image quality, easy-to-use structure and built-in advanced features render these systems useful in medical practice. Trolley systems are more durable and require less technical assistance thus, driving segmental growth in developing and underdeveloped regions.
Asia Pacific diagnostic ultrasound devices market accounted for more than 35% revenue share in 2018 due to presence of large patient pool in the region. According to WHO by 2050, around 80% of elderly population will be living in low and middle-income countries. Rising geriatric population base prone to various chronic diseases will favor regional growth. Developing healthcare infrastructure and increasing healthcare spending will support Asia Pacific diagnostic ultrasound business growth over the forecast timeframe.
Request a discount on standard prices of this premium report at: https://www.marketstudyreport.com/check-for-discount/716649/?utm_source=reportsgo.com-SP
Maternity centers segment held significant share in 2018 and is estimated to show 3.7% CAGR in the foreseeable future. Rising birth rate globally coupled with increasing complication in pregnancy and growing awareness towards safety of fetus will accelerate segmental growth over the forecast period. Moreover, growing access to ultrasound in maternity centers, rising availability of ultrasound services in developing countries and increasing emphasis on routine ultrasound during pregnancy will further spur revenue size.
Europe diagnostic ultrasound market will experience 2.6% CAGR during the analysis period. Increasing prevalence of chronic diseases coupled with rapidly ageing population in the region will drive Europe diagnostic ultrasound market growth. Moreover, high technological adoption and healthcare advancement in countries such as Germany will favor industry growth. Favorable reimbursement policies with respect to fetal ultrasound imaging as well as cancer screening will escalate regional business growth.
Notable players operating in diagnostic ultrasound market includes Koninklijke Philips, Analogic, Chison, Arthrex, C.R. Bard, Esaote, FujiFilm, GE Healthcare, Mobisante and Promed, Fukuda Denshi, Hitachi and Kalamed. The major industry players adopt strategies such as mergers, acquisition and new product launch to sustain market position and broaden existing customer base.
Major Points in Table of Contents:
Chapter 1. Methodology
1.1. Methodology
1.2. Market definitions
1.3. Forecast parameters
1.4. Data sources
1.4.1. Secondary
1.4.1.1. Paid sources
1.4.1.2. Unpaid sources
1.4.2. Primary
Chapter 2. Executive Summary
2.1. Diagnostic ultrasound industry 360 degree synopsis, 2014 - 2025
2.1.1. Business trends
2.1.2. Technology trends
2.1.3. Portability trends
2.1.4. Application trends
2.1.5. End-user trends
2.1.6. Regional trends
Chapter 3. Diagnostic Ultrasound Industry Insights
3.1. Industry segmentation
3.2. Industry landscape, 2014 - 2025
3.3. Industry impact forces
3.3.1. Growth drivers
3.3.1.1. Growing geriatric population base in developed countries
3.3.1.2. Rising incidence of chronic diseases in Asia Pacific
3.3.1.3. Increasing birth rates worldwide
3.3.1.4. Technological innovations and advancements
3.3.2. Industry pitfalls and challenges
3.3.2.1. Dearth of skilled professionals
3.3.2.2. Barriers impeding use of diagnostic ultrasound in developing economies
3.4. Growth potential analysis
3.4.1. By technology
3.4.2. By portability
3.4.3. By application
3.4.4. By end-user
3.5. Technology landscape
3.6. Porter's analysis
3.7. Competitive landscape, 2017
3.7.1. Strategy dashboard
3.8. PESTEL analysis
Chapter 4. Diagnostic Ultrasound Market, By Technology
Chapter 5. Diagnostic Ultrasound Market, By Portability
Chapter 6. Diagnostic Ultrasound Market, By Application
Chapter 7. Diagnostic Ultrasound Market, By End-user
Chapter 8. Diagnostic Ultrasound Market, By Region
Chapter 9. Diagnostic Ultrasound Market Company Profiles
For more information on this report at: https://www.marketstudyreport.com/reports/diagnostic-ultrasound-market?utm_source=reportsgo.com-SP
Related Reports: -
Medical Diagnostic Ultrasound Device Market Insights 2019, Global and Chinese Analysis and Forecast to 2024
Medical Diagnostic Ultrasound Device Market Insights 2019, Global and Chinese Scenario is a professional and in-depth study on the current state of the global Medical Diagnostic Ultrasound Device industry with a focus on the Chinese market. The report provides key statistics on the market status of the Medical Diagnostic Ultrasound Device manufacturers and is a valuable source of guidance and direction for companies and individuals interested in the industry.Overall, the report provides an in-depth insight of 2014-2024 global and Chinese Medical Diagnostic Ultrasound Device market covering all important parameters.
https://www.marketstudyreport.com/reports/medical-diagnostic-ultrasound-device-market-insights-2019-global-and-chinese-analysis-and-forecast-to-2024/?utm_source=RR-SP
About Us:
Marketstudyreport.com allows you to manage and control all corporate research purchases to consolidate billing and vendor management. You can eliminate duplicate purchases and customize your content and license management.
Contact Us:
Market Study Report LLC,
4 North Main Street,
Selbyville, Delaware 19975
USA
Phone: 1-302-273-0910
US Toll Free: 1-866-764-2150
Email:[email protected]
Website:https://www.marketstudyreport.com
Blog: https://www.marketstudyreport.com/blog/