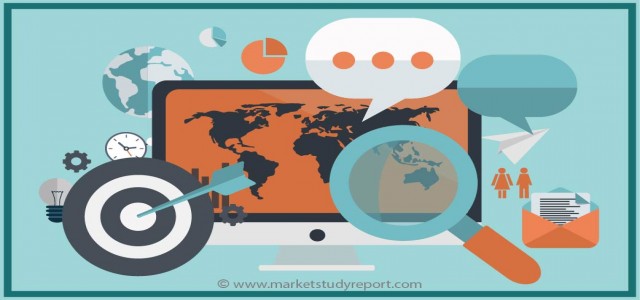 MarketStudyReport.com Adds New Cybersecurity Market 2018 – 2024 research report providing information and data By Product Type, By Organization, By Industry, Industry Analysis, Regional Outlook, Growth Potential, Competitive Market Share & Forecast spreading across 450 Pages with table and figures in it.
The security services market holds over 60% share in the global cybersecurity market. The inexpensive nature of services and the rising adoption of BYOD polices are fostering its adoption among enterprises of all sizes. The network security market is also projected to grow at a CAGR of over 15% over the forecast time period. The rising penetration of integrated security solutions & IP traffic is fueling its adoption network security solutions.
Request a sample of this premium report at: https://www.marketstudyreport.com/request-a-sample/1534296
Cybersecurity Market is anticipated to exceed 300 billion by 2024. The market is driven by the increasing frequency of cyber-attacks. This is attributed to the extensive digitalization across multiple business sectors. In the last five years, the financial losses caused due to cyber-attacks have risen by over 62%, encouraging companies to adopt advanced cybersecurity solutions to protect their sensitive information from unsanctioned access. In addition, the rising adoption of IoT devices is also promoting the adoption of cybersecurity solutions. Most of the IoT devices lack basic security features, enabling cybercriminals to exploit the vulnerabilities to conduct various illegal activities.
The large enterprise held over 60% share of the cybersecurity market. The market in large enterprises is primarily driven by the increasing financial losses associated with the cybersecurity breaches. The average cost of cybersecurity breaches among large organizations has increased by over 11% in 2017. The government cybersecurity market is expected to grow at a CAGR of over 15% over the forecast time period. The loss of critical data and the erosion of trust in government officials have encouraged public sector agencies to deploy cybersecurity solutions to safeguard its network architecture.
The North America region is leading the cybersecurity market with over 40% share in 2017. The increasing investments and acquisition of cybersecurity start-ups by major players in the region are adding to market growth. The European region accounted for over 20% market share of the cybersecurity market in 2017. The rising public-private partnerships and government investments are driving the cybersecurity market in the region. The government has also enforced various regulations, enforcing business establishments of all sizes to use cybersecurity solutions.
Another factor propelling cybersecurity market growth is the increasing need among organizations to minimize the security risks. With the increasing adoption of cloud platforms & other network solutions, organizations are becoming more exposed to external breaches. This has driven the companies to increase their budgetary allocations for cybersecurity solutions. The increasing penetration of several mobile and wireless devices is also adding to cybersecurity market growth. The availability of inexpensive smart devices and developments in the telecommunication infrastructure is increasing the adoption of mobile devices among enterprises and consumers.
The transportation market is anticipated to grow at a CAGR of over 15% over the projected timespan. The use of the Industrial Internet of Things (IIoT), smart logistics, and several modernization initiatives will provide a broader surface for cybercriminals to penetrate the company network. This has promoted the use of cybersecurity solutions in the transportation and logistics industry. The banking industry is predicted to grow at a CAGR of over 16% over the forecast timespan. The introduction of various stringent regulatory policies that mandate financial establishments to deploy security solutions has influenced the cybersecurity market.
Request a discount on standard prices of this premium report at: https://www.marketstudyreport.com/check-for-discount/1534296/
Some of the players operating in the cybersecurity market are BAE Systems, CyberArk Software Ltd., Microsoft Corporation, Splunk, Inc., RSA Security, LLC., Oracle Corporation, Palo Alto Networks, Inc., Symantec Corporation., F5networks, Inc., Check Point Software Technologies Inc., Hewlett-Packard, Ltd., F-Secure Corporation, FireEye, Inc., Fortinet, Inc., IBM Corporation, Rapid7, Sophos Group plc, Intel Corporation, Proofpoint, Inc., McAfee LLC, Cisco Systems, Inc., and Trend Micro, Inc. The cybersecurity landscape is dominated by large players such as McAfee, Sophos, Symantec, Trend Micro, Check Point Software, and Palo Alto Networks. These players are conducting strategic acquisitions of various start-ups in the market to broaden the product line and strengthen its position in the market. In November 2018, Symantec Corporation acquired Javelin Networks, an Israel-based cybersecurity provider. The products developed by Javelin Networks will be integrated into Symantec?s product portfolio to expand its product offerings.
Table of content:
Chapter 1. Methodology & Scope Chapter 2. Executive Summary Chapter 3. Global Cybersecurity Industry Insights Chapter 4. Competitive Landscape Chapter 5. Global Cybersecurity Market, By Product Type Chapter 6. Global Cybersecurity Market, By Organization Type Chapter 7. Global Cybersecurity Market, By Industry
Chapter 8. Global Cybersecurity Market, By Region
Chapter 9. Company Profiles
More Details on this Report At: https://www.marketstudyreport.com/reports/cybersecurity-market
Related Report:
Global Industrial Cybersecurity Market Size, Status and Forecast 2019-2025
Industrial Cybersecurity is designed to protect industrial environments from cyber threats at all stages. Industrial cybersecurity is a highly growing and dynamic area of concern. It includes industrial control systems, the software and hardware solutions, and network security. These cyber security solutions are designed for the secured operation of machines and plants in industries. Increasing adoption of cloud security solutions; growing adoption of IoT in industrial control systems; rising number of cyber-crime related incidents in different end use industries
https://www.marketstudyreport.com/reports/global-industrial-cybersecurity-market-size-status-and-forecast-2019-2025
About Us:
Marketstudyreport.com allows you to manage and control all corporate research purchases to consolidate billing and vendor management. You can eliminate duplicate purchases and customize your content and license management.
Contact Us:
Market Study Report LLC
4 North Main Street,
Selbyville, Delaware 19975
USA
Phone: 1-302-273-0910
US Toll Free: 1-866-764-2150
Email: [email protected]
Website: https://www.marketstudyreport.com
Blog: https://www.marketstudyreport.com/blog