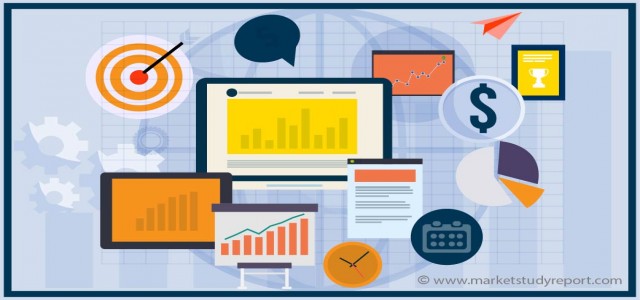 Market Study Report LLC provides a detailed overview of Contraceptives market with respect to the pivotal drivers influencing the revenue graph of this business sphere. The current trends of Contraceptives market in conjunction with the geographical landscape, demand spectrum, remuneration scale, and growth graph of this vertical have also been included in this report.
U.S. contraceptives market is estimated to witness a growth of 5.3% over the projection period. More than 60 million women in the United States are in childbearing age and around 70% of them are at risk of developing unintended pregnancy. Increasing awareness coupled with the number of advantages associated with the contraceptive methods are expected to increase its usage rendering significant positive impact on the market in the country.
Request a sample of this premium report at: https://www.marketstudyreport.com/request-a-sample/467706/?utm_source=reportsgo.com-SP
Contraceptives Market will exceed USD 38,500.5 million by 2025; as per a new research report. Increase in number of unintended pregnancy across the globe will be a major factor driving the growth of contraceptives market. According the recent statistics, more than 50% pregnancies in U.S. are unplanned and around 90% of the sexually active women use some form of contraception and rest 10% that do not use any contraception, amount for half of the unplanned pregnancies. Hence, growing number of unintended pregnancies will be huge factor augmenting the contraceptives market growth in the near future.
Rise in number of women postponing motherhood as they prioritize their careers and balancing concerns of the cost for raising a child, ambiguity over job safety, proper family planning and unstable relationships are increasingly causing women to postpone having a baby. Hence, recent trend of delayed pregnancy will enhance the market growth in the near future.
Increase in prevalence rate of infertility cases due to various factors such as obesity, unhealthy dietary habits, smoking and alcohol consumption will be one of the major market impeding factors. Also, several side effects and failure of contraceptives will negatively impact the product demand in future.
Contraceptive devices market is estimated to grow at significant rate of 7.8% over the projection period. High effectiveness of around 99% success rate, easy availability, low cost, less side effects and ease of use of the devices will result in increase in demand and adoption rate of the devices, fueling the business growth.
Request a discount on standard prices of this premium report at: https://www.marketstudyreport.com/check-for-discount/467706/?utm_source=reportsgo.com-SP
The use of contraceptives in age group of was valued around USD 8,505.6 million in the year 2018. As per the recent statistics, 50% of the pregnancies in U.S. are unplanned and of those 42% end up in abortion. Increase in number of teenage pregnancies in U.S. will augment the use of contraceptives devices market.
India contraceptives market was valued around USD 864.3 million in the year 2018. Rise in awareness among the Indian women regarding the application and usage of contraceptives, family planning programs conducted by the government unit for proper contraception services and family planning health in India will drive the business growth in forthcoming years.
Industry players having a strong foothold include Pfizer, Teva Pharmaceutical Industries, Merck & Co., and Mayer Laboratories. To expand their industry presence, many established firms are entering in sparsely addressed high potential regions. Introduction of new devices in emerging economies by these companies enables them to cater to unmet needs and expand revenue sources.
Table of Contents:
Chapter 1. Methodology
1.1. Methodology
1.2. Market definition
1.3. Forecast parameters
1.4. Data sources
1.4.1. Secondary
1.4.1.1. Paid sources
1.4.1.2. Unpaid sources
1.4.2. Primary
Chapter 2. Executive Summary
2.1. Contraceptives industry 360 degree synopsis, 2014 - 2025
2.1.1. Business trends
2.1.2. Product trends
2.1.3. Age trends
2.1.4. Regional trends
Chapter 3. Contraceptives Industry Insights
3.1. Industry segmentation
3.2. Industry landscape, 2014 - 2025
3.3. Industry impact forces
3.3.1. Growth drivers
3.3.1.1. Favorable regulatory scenario in developed nations
3.3.1.2. Growing inclination towards planned delayed pregnancy
3.3.1.3. High unmet contraceptive needs in developing economies
3.3.1.4. Growing prevalence of Sexually Transmitted Diseases (STD) in African region
3.3.2. Industry pitfalls & challenges
3.3.2.1. Growing infertility prevalence
3.3.2.2. Adverse effects of contraceptive drugs
3.4. Growth potential analysis
3.4.1. By product
3.4.1.1. By drug
3.4.1.2. By device
3.4.2. By age
3.5. Regulatory landscape
3.5.1. U.S
3.5.2. Europe
3.5.3. China
3.5.4. India
3.6. Upcoming contraceptive technologies
3.6.1. Contraceptive drugs
3.6.2. Contraceptive devices
3.7. Contraceptive logistics system
3.8. Contraceptives scenario, 2017
3.8.1. Global contraceptive use
3.8.2. Contraceptive prevalence, by region
3.8.3. Contraceptive method distribution, by region
3.8.4. Contraceptive effectiveness, region
3.9. Number of contraceptive users median projection, by region, 2000, 2017 and 2030 (Thousands)
3.10. Number of women with unmet need for family planning, median projection, by region, 2000, 2017 and 2030 (Thousands)
3.11. Porter's analysis
3.12. Company market share analysis, 2016
3.12.1. Strategy dashboard
3.13. PESTEL analysis
Chapter 4. Contraceptives Market, By Product
4.1. Global contraceptives market share, by product, 2018 & 2025
Chapter 5. Contraceptives Market, By Age
Chapter 6. Contraceptives Market, By Region
Chapter 7. Contraceptives Market Company Profiles
For more information on this report at: https://www.marketstudyreport.com/reports/contraceptives-market?utm_source=reportsgo.com-SP
Related Reports: -
Global Hormonal Contraceptives Market Report 2019, Competitive Landscape, Trends and Opportunities
The report mainly studies the size, recent trends and development status of the Hormonal Contraceptives market, as well as investment opportunities, government policy, market dynamics (drivers, restraints, opportunities), supply chain and competitive landscape. Technological innovation and advancement will further optimize the performance of the product, making it more widely used in downstream applications. Moreover, Porter's Five Forces Analysis (potential entrants, suppliers, substitutes, buyers, industry competitors) provides crucial information for knowing the Hormonal Contraceptives market.
https://www.marketstudyreport.com/reports/global-hormonal-contraceptives-market-report-2019-competitive-landscape-trends-and-opportunities/?utm_source=RR-SP
About Us:
Marketstudyreport.com allows you to manage and control all corporate research purchases to consolidate billing and vendor management. You can eliminate duplicate purchases and customize your content and license management.
Contact Us:
Market Study Report LLC,
4 North Main Street,
Selbyville, Delaware 19975
USA
Phone: 1-302-273-0910
US Toll Free: 1-866-764-2150
Email:[email protected]
Website:https://www.marketstudyreport.com
Blog: https://www.marketstudyreport.com/blog/