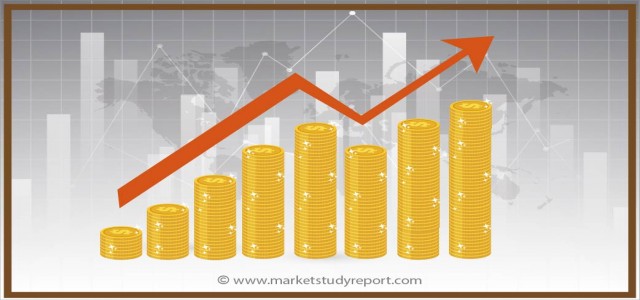 Market Study Report Add New Global Animal Parasiticides Market Report to its research database presenting an informative study covering the market with detailed analysis. The Global Animal Parasiticides market research report is a professional and in-depth study on the current state of global Industry.
Historical data from 2013 is provided for Animal Parasiticides Market along with estimates and forecasts to 2024 based on segmentation of By Product, By Animal Type, companies and regions. Previous years' data offers fact based information on trends and growth graph while the forecasts aim to show an outlook of Animal Parasiticides market for the next few years keeping in mind the advancements happening in the sector.
Request a sample of this premium report at: https://www.marketstudyreport.com/request-a-sample/616512/
Rising incidences of zoonotic diseases coupled with increasing industrial animal farming will serve as high impact rendering factors for the global animal parasiticides market. Whooping rise in the number of pet population along with improved economic status of pet owners especially in developing regions will spur the demand for animal health products worldwide.
France animal parasiticides market accounted for the second largest regional revenue share in Europe. Furthermore, with growing number of farm animals, increasing meat consumption and introduction of new products, the market should witness growth over 2% during the forecast period.
Being one of the top producers of farm animals, the demand for various parasiticides products will fuel the business growth. Farm animal parasiticides are major contributors to the total market. Pet parasiticides are still in introduction phase, but are poised to enter growth phase due to rising disposable incomes and awareness among pet owners.
Request a discount on standard prices of this premium report at: https://www.marketstudyreport.com/check-for-discount/616512/
Players operating in the global Animal Parasiticides market include Zoetis, Merck, Elanco, Bayer Animal Health, Boehringer Ingelheim Animal Health, Ceva Sante Animale, Virbac, Sanofi, Vetoquinol, Perrigo Company PLC.
Animal Parasiticides Market By Product:
Ectoparasiticides
Sprays
Dips
Collars
Pour-ons and Spot-ons
Ear tags
Endoparasiticides
Injectables
Oral
Feed additives
Endectocides
Animal Parasiticides Market By Animal type:
Farm animal
Poultry
Swine
Cattle
Sheep and goats
Companion animal
Dogs
Cats
Horses
Table of Content:
Chapter 1. Methodology and Scope
Chapter 2. Executive Summary
Chapter 3. Animal Parasiticides Industry Insights
Chapter 4. Animal Parasiticides Market, By Product
Chapter 5. Animal Parasiticides Market, By Animal Type
Chapter 6. Animal Parasiticides Market, By Region
Chapter 7. Company Profiles
For More Info on this Report At: https://www.marketstudyreport.com/reports/animal-parasiticides-market
Related Report:
Pet Cancer Therapeutics Market Technology Development, Competitive Landscape & Forecast, 2017 - 2024
Growing pet adoption rate coupled with increasing disposable income of pet owners will drive pet cancer therapeutics market growth. Strong and robust drug pipeline for treatment of pet cancer will stimulate business growth over the forecast years.
https://www.marketstudyreport.com/reports/pet-cancer-therapeutics-market/?utm_source=RR-PSR
About Us:
Marketstudyreport.com allows you to manage and control all corporate research purchases to consolidate billing and vendor management. You can eliminate duplicate purchases and customize your content and license management.
Contact Us:
Market Study Report LLC
4 North Main Street,
Selbyville, Delaware 19975
USA
Phone: 1-302-273-0910
US Toll Free: 1-866-764-2150
Email: [email protected]
Web site: https://www.marketstudyreport.com