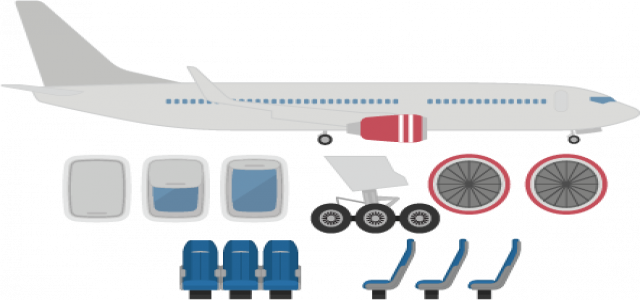 Growing preference for stronger and lighter materials in the manufacturing sector has bolstered the global advanced polymer composites market earnings, that exceeded USD 9 billion in 2017 owing to the extensive application scope of these composites. Superior resistance to abrasion and fatigue have made these composites ideal for producing aircraft wings, nacelles, rudders, landing gears as well as various automobile parts and wind turbine blades.
Evident significance of the advanced polymer composites market across several industry domains has ensured a steady growth in the research and development of specialized products and services. Over the last few years in particular, the production of wind blades to support the exponentially rising investment in renewable energy has been a notable factor influencing the advancement of the advanced polymer composites industry.
Request sample copy of this report @ https://www.gminsights.com/request-sample/detail/1175
Governments all round the world have promoted the adoption of renewable energy and introduced major laws to help producers explore wind and solar energy, in addition to providing suitable financial aid. However, as government subsidies get reduced the wind power sector will depend on raising efficiency of turbines by increasing blade sizes, bringing the advanced polymer composites market into play. Throughout different regions, projects are being planned to tap into the tremendous wind potential near oceans and on land.
Estimates show that about 1 million GW of wind energy can be harnessed from the overall land coverage on Earth and approx. 1% efficient use of this potential can meet the world's electricity demand. Subsequently, prominent industry players are collaborating with regional companies and authorities to build giant wind farms, propelling the advanced polymer composites industry expansion.
Elaborating further, Germany had added 222 wind turbines, having 1.25 GW capacities, in 2017 along the North Sea and the Baltic Sea, which accounted for 40% of the total capacity expansion worldwide in that year. It is projected that the offshore wind capacity in Germany could rise to 15 GW by 2030, demonstrating a lucrative revenue source for wind blade manufactures and the advanced polymer composites market in Europe.
Contribution of the U.S. offshore wind industry in advancing the renewable energy segment is also incredible, as it is touted to have the second largest wind power capacity. The Empire Wind project, being planned in the waters around 15 miles from Long Island, will supposedly be spread across 79,000 acres of leased federal waters, consist of hundreds of wind turbines and would be completed by 2025.
Partial Chapter of the Table of Content:
Chapter 2. Executive Summary
2.1. Advanced polymer composites industry 360° synopsis, 2014 – 2025
2.1.1. Business trends
2.1.2. Product trends
2.1.3. Application trends
2.1.4. Regional trends
Chapter 3. Advanced polymer composites Industry Insights
3.1. Industry segmentation
3.2. Industry size and forecast, 2014 - 2025
3.3. Industry ecosystem analysis
3.3.1. Profit margin
3.3.2. Value addition
3.3.3. Distribution channel analysis
3.3.4. Vendor matrix
3.3.4.1. List of key manufacturers/suppliers
3.3.4.2. List of key/potential customers
3.4. Raw material trends
3.5. Technology landscape
3.6. Industry impact forces
3.6.1. Growth drivers
3.6.1.1. Increasing product demand from aerospace industry
3.6.1.2. Product applications in wind energy generation
3.6.2. Industry pitfalls & challenges
3.6.2.1. High production cost
3.7. Regulatory landscape
3.7.1. U.S.
3.7.2. Europe
3.7.3. China
3.8. Growth potential analysis
3.9. Competitive landscape
3.9.1. Company market share, 2017
3.9.2. Strategy dashboard
3.9.3. Patent analysis
3.10. Porter's analysis
3.10.1. Supplier power
3.10.2. Buyer power
3.10.3. Threat of new entrants
3.10.4. Threat of substitutes
3.10.5. Industry rivalry
3.11. Regional price trends
3.11.1. Cost structure analysis
3.11.1.1. R&D cost
3.11.1.2. Manufacturing & equipment cost
3.11.1.3. Raw material cost
3.11.1.4. Distribution cost
3.11.1.5. Operating cost
3.11.1.6. Miscellaneous cost
3.11.2. Price by product
3.11.3. Price by applications
3.12. PESTEL analysis
Make an inquiry for purchasing this report @ https://www.gminsights.com/inquiry-before-buying/1175
All in all, rapid development of the wind power generation sector has presented a significant demand for bigger, stronger and lighter wind blades, that would eventually impact the revenue scale of the advanced polymer composites industry. With the global wind energy industry pegged to register a valuation of USD 111.4 billion in the next six years, remuneration for the advanced polymer composites market is anticipated to exceed USD 17 billion by 2025.